Keeping a little 2 year to 4 years old busy at home is a tough task for a parent. Among all the other million things that a child does during the day reading a book can easily be most rewarding for him and the parent. Besides catching their imagination and building their language skills, reading sessions with the child can prove to be effective for a parent in forging a special bond with the little one. In my post how to get your kids to love books, I have reiterated steps on how to make books an integral part of your child's life. I have also put up a video on my youtube channel that includes a demo on how to start reading to your young one. Find below books to make your 2 years old to read. Hope this all helps!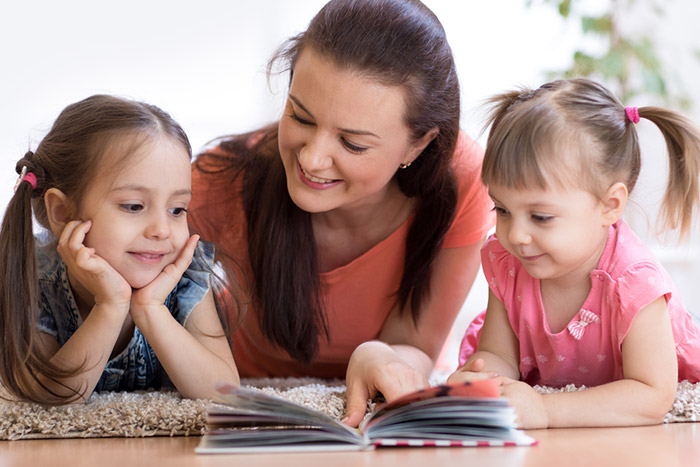 Given below is a list of 10 books that you should necessarily have on your shelves if you want your child to be a reader for life. Great visuals around an interesting theme, in these books making them enjoyable and fun.
1. The Very Hungry Caterpillar written by Eric Carle
This book features a caterpillar who eats a variety of foodstuffs on different days before becoming a butterfly. This book has sold almost 50 million copies worldwide and is the winner of many children's literature awards along with a major graphic design award for wonderful illustrations. This book uses distinctive collage illustrations with eaten holes in the pages and includes simple educational themes of counting, days of the week, different kinds of food, and life stages of a butterfly.
2. Olivers Vegetables – written by Vivian French.
Great book for parents with fussy eaters. Oliver makes a visit to his grandpa. His grandpa has a garden rich with veggies. He plays a game that would entitle him to eat French fries only after he finds the potatoes in his grandpa's garden. Along the way eating all that he finds in the garden on different days of the week. This book is one in the series that sold over 2 lac copies in the UK alone. Other titles in this series include Oliver's Fruit Salad and Oliver's Milkshake.
3. The Gruffalo by Julia Donaldson and illustrated by Axel Scheffler
The Gruffalo tells the story of a mouse, the protagonist of the book, taking a walk in the woods. The Gruffalo won the gold award (in the 0–5 years category) of the 1999 Nestle Smarties Book Prize. It was the UK's best-selling picture book of 2000. Other books written by Julia have been equally well received. These include: What the ladybird heard? The Paper Dolls, the Gruffalos child
4. The Bad Tempered Ladybug, written by Eric Carle
Published by Greenwillow Books. The Bad Tempered Ladybug was named one of the "Teachers top 100 books for children" in 2007 in an online poll conducted by the National Education Association.
This is a story about an arrogant bad-tempered ladybug who does not treat others well. It is a good read to tell children about bullies and also how to express their feelings. This book also talks about the life cycle of ladybugs, comparing sizes, and telling time.
5. Brown Bear, Brown Bear, what do you see -written and illustrated by Bill Martin Jr and Eric Carle
In the story readers first meet Brown Bear, followed by Red Bird, Yellow Duck, Blue Horse, Green Frog, Purple Cat, White Dog, Black Sheep, Goldfish, Teacher, and Children. It is a book to help toddlers understand colors and associated meanings with various objects. This book is fun and engaging for readers because of rhyming words and predictable text along with interesting tissue paper collage illustrations.
6. Goodnight Moon By Magratet Wise Brown
This is a highly acclaimed bedtime story published on September 3, 1947. It features a bunny saying "good night" to everything around: "Goodnight room. Goodnight moon. Goodnight cow jumping over the moon. Goodnight light, and the red balloon …".
It is a great resource to teach kids colors, rhyming words, reading comprehension. It also encourages kids to make general observations and points out that fear can be caused by our imagination
7. Are you my Mother by P.D Eastman
It is a book for young readers and was published by Random House on June 12 1960 as part of its beginner's book series. It was one of the "Top 100 Picture Books" of all time in a 2012 poll by School Library Journal (An American monthly Journal for school librarians and public librarians).
Are you my mother is a story that talks about the simple adventures of a hatchling bird who goes looking around for his mother. It gives an opportunity for kids to identify common animals It also talks about reassuring children that we all have a mom who is looking out for us ..even when she is not around at all times.
8. Curious George by H A Rey
This is a series of children's book and animated show on TV. George the main character is a monkey that goes on adventures of all sorts around him. Curious George inspires children to explore science, engineering, and math in the world around them
9. The Tale of Peter Rabbit written and illustrated by Beatrix Potter
This is a children's book talking about mischievous and disobedient Young Peter Rabbit as he gets into trouble and is chased around in the garden of Mr. McGregor. This book has been hugely successful and with 45 million copies sold it is one of the best selling books in history.
10. The Berenstain Bears
The Berenstain Bears is a children's literature franchise created by Stan and Jan Berenstain This book features a family of anthropomorphic grizzly bears who generally learn a moral or safety-related lesson by the end of each story
Happy Reading..