Rakshabandhan is one of the few festivals around the world celebrating the beautiful relationship between a brother and sister. A relationship that is marked with mischief, happiness, and pure love. For years we have been celebrating it with excitement and joy. Kid brothers are specially excited for the festival as they would want to adorn their wrists with the most interesting rakhis. Also the number of rakhis is a matter of pride among them as they go around sharing photographs on social media of their beautiful decorated wrists.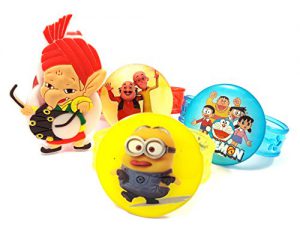 Traditionally this festival entails visits among families with brothers visiting their sisters. However this year because of the pandemic, family visits will be few. Most of the sisters will have to resort to sending rakhis online. Even sisters that stay with their kid brothers would seek to order online.
Given below are some interesing Rakhis you could buy for your kid brother that would get him excited and for sure bring a smile on his face on this joyous occassion.
1. Naughty Message Rakhi
This Rakhi has a naughty message along with a wonderful pearl gift and cartoon Rakhi coupled with a greeting card.
2. Glowing Rakhi
All-time hit with boys. This Rakhi has a lot to play with and show around. Interesting cartoon characters like Chota Bheem and Doremon can be seen glowing in the dark
3. Cartoon Rakhi
Cartoons hold a special place in the heart of our kids. Its been like this since we were kids. Instead of boring threads make this rakhi special for the little one. Some Cartoon characters that are readily available are Chota Bheem, Doraemon, and Captain America
4. Plant base Seed Rakhi
For those parents that would like to use this occasion to make the kids sensitive to environment around. This Rakhi let the child get closer to nature.
5. Tag Rakhi
Interesting tags make these threads beautiful. Rakhis that the kid brother can go around wearing for a lot number of days
6. Gift/Chocolate/ Rakhi Combo
When you want to gift your kid brother more than just a Rakhi. These combo sets come with interesting combinations of chocolate and gifts. Have a look.
Hope all the kid brothers have a great time adorning these interesting rakhis on their writs. Do write in comment section which one did you find most interesting.
Happy Rakshabandhan